Ottawa Shawarma delights customers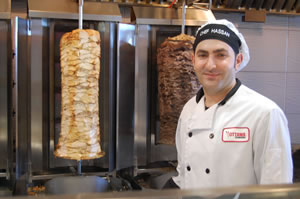 Chef Hassan Beshara was a classically trained chef in Lebanon when he was invited to come to Canada and cook for Palace Shawarma in 2008. Nearly 10 years on, he recently opened Ottawa Shawarma at Greenbank Hunt Club Centre with partner Rami Farhat.
A passion for good food runs in Beshara's family - his father was also a chef - and his culinary training also gave him solid grounding in nutrition and hospitality. While his love of cookery extends to many cuisines, the traditional food of Lebanon inspires him most.
Patrons of Ottawa Shawarma quickly become devotees of its exceptionally fresh and enticing food. In the Levantine tradition, shawarma focuses on meat grilled on a spit, with long, tender shavings featured in a variety of formats.
The menu offers traditional plates and sandwiches with chicken, beef and rainbow trout and a mouth-watering run of companion dishes, among them prepared garlic, Hummus, Tabouleh, Moussaka, Baba Ganoush, and grape leaves.
Lentil soup is a fragrant bowl that is also a bargain, and the Kids Plate comes with either chicken strips, wings or shawarma. Take out orders can be handled through SkipTheDishes.com.
Catering services are available for family meals and celebrations, and for events large and small. Ottawa Shawarma takes the hassle out of menu planning, tailoring menus and dishes to suit the event and the number of diners. After a recent meal prepared for a party of 45, the host went out of his way to drive back to the restaurant to share his effusive thanks in person.
Come in today to discover the very best shawarma in town!
Catering Services
Get in touch with Ottawa Shawarma to arrange your menu for:
Family gatherings
Birthdays and celebrations
Weddings
Corporate events
Profile published May 2017.